Each year, the national representative teams of Ireland, England, Wales, Scotland, Italy and France compete against each other in the Six Nations tournament, which is the Northern Hemisphere's premier rugby union tournament. The selection of Gareth Anscombe to the Welsh rugby union squad for the 2015 Six Nations tournament sparked some resentment among some people within the European rugby world. For some, the problem with Anscombe's selection was that he was born and raised in New Zealand, was trained and developed as a professional player within the New Zealand schools and rugby academy systems, began his career with a top New Zealand club, and was even leading points scorer for the New Zealand under-20s team at the 2011 Junior World Cup. In fact, Anscombe had only moved to Wales after the Welsh national coach showed interest in him. However, his mother is Welsh and so he qualifies under International Rugby Board rules to represent either New Zealand or Wales. For some, however, his selection into the Welsh squad is merely an exploitation of a loophole to give Wales an "unfair" advantage in the tournament, whilst others (only a few) see it as preventing "genuine" locally produced players from having the opportunity to represent their country. This is just one of the latest examples of the complicated nature of sports nationalism. At the core of these concerns are questions about what nationality is in international sports – is it a category carefully defined by the regulations of the international rugby board, or one based to a fundamental property of a player, be it his birthplace, ancestry, place where he trained, or cultural membership in a nation.
National representation remains a core feature of the organisation of rugby union globally. International rugby matches between the national representatives of two countries are the sport's largest and most prestigious events. The International Rugby Board (IRB), the sport's international governing body, has introduced extra regulations to govern the nationality of players, defining nationality differently from individual states, which define nationality in terms of citizenship or residency. Currently the regulations dictate that a player may only play for one national team in his life and that, in order to be eligible for a national team, he, a parent or grandparent must have been born in that country, or he must have completed thirty-six consecutive months of residence there immediately prior to selection. This regulatory framework, designed to protect the sanctity of nationality, is supplemented by a requirement that professional clubs release their players to play for national teams if selected during the international season, which maintains the pre-eminence of national over club competitions.
However, the reality is that nationalism is only one aspect of playing for a national team, and playing for a national team is only one aspect of representing a nation. A key complicating factor is that rugby union is a global sporting industry, in which professional ambitions mingle with nationalistic sentiments. Apart from its nationalistic connotations, the Six Nations tournament represents the pinnacle of a profession. The players who are selected in these matches earn significant playing bonuses for these matches, but also increase their reputation and value within the rugby world. For this reason, representing a national team is a professional achievement – the pinnacle of a career that might involve playing and being developed in several countries, rather than being confined to a single nation.
The problems that nationality raises in professional sport reflect the tensions between ideas of national representation and the realities of professionalised sport. These tensions have produced very different perspectives in the differently located nations within the hierarchies of professional rugby.
Selling the Nation? A Global Professional Sport
In 1995, IRB determined that clubs and countries could pay their players to play. The role of national teams was crucial in this process of professionalisation, as the change was essentially forced by the collusion between the players, particularly those playing on the national teams of Australia and New Zealand, and major media conglomerates. Faced with the alternative of having all the top players playing for a competition that they wouldn't run, the IRB acquiesced to players' demands for professionalism. New competitions and teams were formed, designed to be sold to the public through large-scale media deals. A notable feature of the new professional teams was that they contracted their players. Player contracting has resulted in a highly mobile workforce, many of which change their place and nation of employment five or six times over careers that normally last less than ten years. Player contracts have also extended the pull of the major professional clubs, which are now able to attract players from the entire rugby-playing world, meaning that most teams in the top competition of England and France will have a half-dozen or more players drawn from the southern hemisphere nations. Also, partly to accommodate for the mobility and partly as a product of increased expectations of the players that they meet the highest standards, a global body culture of professional rugby has developed. This body culture produces not just the skills expected of players, but also their bodies and their attitudes to playing and training. Within this professional system, players are accountable for their performances. The pinnacle of this professional system are the international matches and, for this reason, professional players regard national representation as a reward for professional excellence. Viewing rugby as an industry casts national representation in a new light.
Within this professional system, nationalism is a core aspect of the promotion of rugby. The context of international matches makes them interesting to potential audiences and sponsors. The annual competitions of the North Hemisphere are all structured to highlight the key international fixtures, and this is particularly the case of the Six Nations tournament. Media campaigns promoting this tournament are heavily nationalistic, tending to focus on age-old rivalries between countries (as defined by IRB, with Wales, Scotland and England counting as separate countries) and on the long histories of on-field heroics by teams and individuals. Rugby choirs and hordes of fans wearing national jerseys and draped in national flags are featured on ads as frequently as images of outstanding play. Take, for instance, one of the most famous advertisements for the 2012 Six Nations, which features scenes of highly parochial supporters from each of the home nations. Stereotyped images of each of the rugby communities of Ireland, Scotland and Wales, such as a Welsh choir, as well as images of other, less stereotypical, but equally passionate supporters, such as a turban-wearing Welsh shopkeeper, were juxtaposed against these same groups and individuals proudly exclaiming "England!" The seeming contradiction was resolved at the end of the advertisement, when it was revealed that the groups were responding to the question "Who would you like to see lose this year's tournament?" Traditional rivalries are very obviously what supporters regard as important. This ad also hints at the commercial reality which underwrites the modern sporting industry. Historic rivalries are propagated and transformed into easily digestible forms, such as advertisements. Support for the nation can be expressed by wearing the national jersey, watching the rugby, and enjoying seeing old rivals lose. If it is the spectacle of rugby that is being sold to television audiences, then nationalism is an important aspect of that spectacle.
However, the ability of different countries within rugby to pursue this nationalism differs widely. The financially powerful rugby clubs of Europe are able to attract players from around the world and, once within a country, residency offers the possibility of national representation. The ability of some nations to attract foreign players give to rugby athletes' mobility a specific direction, a topography defined by the disproportionate availability of hopes and dreams in some places and their absence in others. Indeed, forty-five players other than Gareth Anscombe were born outside of the nation that they represented in this year's Six Nations tournament. Now, it is important to note that each of these players followed different trajectories before they ended up in the national squads, and that birthplace is not a definitive, or even the best measure of national belonging, but it does indicate a high-level of global mobility. Most notably mobile are those players, like Anscombe, who arrived in a country with the specific aim of playing rugby.
The power imbalances in global rugby have created a system in which a player's national identification can be bought and sold, the countries with economic pull being able to attract talented players from marginal countries with the lure of professional contracts and nationality. This differentiation is enhanced by the protectionist selection policies imposed upon most professional teams by their national governing bodies. For instance, in Australia, in order to be contracted for any of the super rugby clubs, a player must be currently eligible to represent Australia, have signed an agreement that they will pursue citizenship and eligibility, or be given a rare exemption. The powerful national governing bodies attract talent born and trained overseas, further reinforcing their dominance on the international stage through on-field victories; whilst marginal countries struggle to compete, as many of their players either choose to play for other countries or decline international representation in an attempt to keep their professional contracting options as open as possible. There are very strong concerns that the Pacific Islands are being exploited for their rugby talent by the larger and more powerful rugby nations of the Australia, New Zealand and the Six Nations.
Playing for another nation does not end the connection between players and the places they were raised. The example of Fijian rugby highlights the complexity of nationality in professional rugby. To understand the dynamics of Fijian nationalism, it is important to understand the role of rugby within the indigenous community, and the hope that young men and communities place on the prospect of professional rugby careers – whether this hope leads to them representing Fiji or one of Fiji's rivals in international rugby.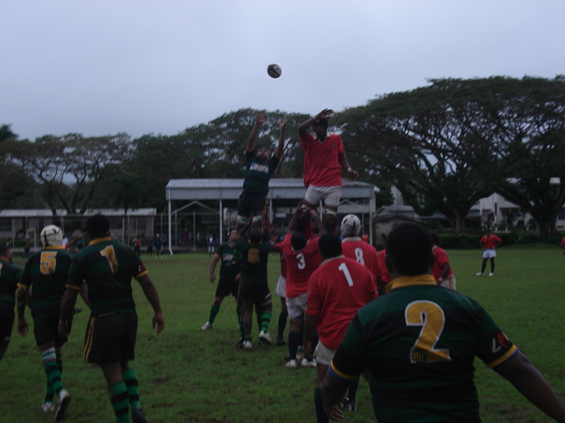 Embodying an Alternative Nationalism: Fijian Masculinity
The links between professionalism and nationalism are perhaps even more evident at the margins of global rugby. Fiji, an island nation which has traditionally had a very strong 7s rugby team (an abbreviated version of the game which emphasises speed and agility), is a source of highly mobile players, rather than a destination. The convergence of Fijian social and economic desires and the availability of contracts for the best athletes at overseas clubs has resulted in several hundred Fijian professional rugby migrants over the last fifteen years adapting to and being adopted into the very different cultures of their host clubs. However, rather than seeing these players as outcasts, or as being un-Fijian for representing other nations, much of the population in Fiji embraces these players as national heroes. Among the ranks of the most famous Fijian rugby players are many who have represented other nations – superstars who have reached the top level of international rugby. Their faces are on billboards in Fiji, and outside their familial villages signs often proudly notify visitors that these stars were born there. In fact, many Fijians have developed a very strong sense of loyalty to a particular foreign national team, most commonly the national teams of New Zealand or Australia, because a Fijian is playing for them. Playing for one of these nations represents the best financial option for a Fijian player. The financial benefits are well understood by the bulk of the Fijian public, who are very happy to regard these players as Fijians, regardless of which jersey they wear. The continued support for Fijians abroad undermines the presumed rules of nationality, allowing Fijians to see their own national glory enhanced by the success of other national teams. In this alternative form of nationality, departing players are not seen as leaving the Fijian nation, but rather spreading its influence abroad.
The Fijian alternative is based on the importance of rugby within broader society, particularly amongst indigenous Fijians, who make up over 60% of the population. Rugby has been indigenised by Fijians to such an extent that it now plays an important symbolic and social role in the articulation, performance and naturalisation of a particular "Fijian" way of being. Rugby and the military are the focal activities for the construction of masculinity. This is formed around three central values of contemporary indigenous Fijian society, those of vanua (community as symbolised in land and tradition), matanitū (united government through a hierarchy of chiefs and colonial rule) and lotu (one Christian God, community worship and religious rites). These values powerfully define the identities and practices of Fijians. Symbolically, the dominant indigenous identity draws upon a traditional imagination of men as warriors, ordered by chiefs, acting with bravery, boldness, strength and discipline to engage with outside threats and to bring sustenance and protection to their family, clan and village.
At the Lomaiviti club in Suva, Fiji's capital, my primary fieldwork site in Fiji, the pairing of community and religion remained at the forefront of people's lives. Most notably, before and after games and training, they gather in a quiet circle and pray. At these times the prayers are led by a senior member of the team, or by the team's i-talatala (pastor). Most players and support staff members stand with their heads bowed to the ground, or kneel, either silently following the prayer or audibly praying. Young men are given meaning and purpose and are introduced into adult society through rugby and the military, which have become means of gaining recognition and becoming adult men – of moving from the status of neophyte to that of experienced adult and later elder.
It is important to remember this local context when seeking to understand its implications at a national level. It is through rugby that young Fijian men create social ties; through rugby that they gain social prestige; through rugby that they make themselves as good men in terms of the social values espoused by the household, village, nation and church; through rugby that they engage with the outside world and the cultural and economic potential that is contained there and so gain repute within their communities. Even if they are only a short way along the perceived pathways to international success, aspiring young men are able to imagine themselves in terms of the rugby dream and its huge potential. In the complex entanglement of values within Fiji, the social identity of a rugby player translates into a sense of purpose and meaning, a perceived value for young Fijian men. Most players don't end up representing any national teams, but it is the experiences within the clubs, villages and families where they are raised that heavily influence the way in which the overseas-based players are regarded in Fiji. The best players still remain the poster boys of Fiji, still are imagined as embodying the values of lotu, vanua and matanitū, even though they themselves might have to live other values in their day-to-day life.
At the level of the individual and the family, talented Fijian athletes are faced with a choice between national representation and professional careers. For those who are already part-way into the New Zealand or Australian rugby development systems, accepting an invitation to play for Fiji drastically reduces their ability to gain future contracts. In 2007, having represented Fiji at the under-19 and under-20 age groups, the 19-year-old winger Henry Speight moved to New Zealand to do his final year of high school for the second time, this time at Hamilton Boys' High School, a well-known rugby school. He performed well in rugby and was given an opportunity with the regional semi-professional team to play in New Zealand's NPC competition (the largest domestic competition in New Zealand at the time). This competition is a showcase of the best New Zealand talent, a shop window for the five professional teams in New Zealand and a rite of passage for would-be rugby professionals. Here they compete against the best non-professional talent in the country, and performing here guarantees a young player many overseas contract offers. Speight made the most of his opportunity and in 2011 he was offered a contract with the Australian team, the ACT Brumbies. Australian teams are only allowed to play players eligible for the Australian national team. However, each team is allowed two exceptions, "project players" born and raised overseas who show great potential and willingness not only to play for the team, but also to make Australia their full-time home. These players may be offered three-year contracts, with the condition that they work towards satisfying Australia's citizenship requirements and IRB's eligibility rules. The explicit aim is to attract the best of overseas talent in order to bolster the national ranks. The Brumbies wanted this talented Fijian to give up his chance to play for his country; Speight was willing to start down the path towards becoming an Australian citizen and national representative – a path which continues to bring him success as he was selected for the Australian national team for its 2014 tour of Europe. His decisions are framed by a complex interplay between the local constellation of values, including the ongoing support for foreign-based players, and the macro-level structures of the international game.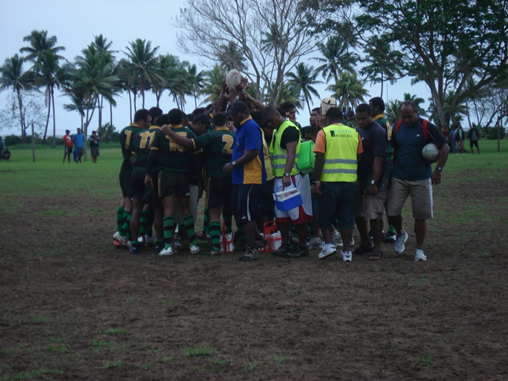 Concluding with a New Beginning: Argentinean Amateurism and Professional Players
The tension between nationality and professionalism in rugby is given an additional twist in Argentina, where I am beginning to conduct fieldwork. In Argentinean rugby, the relationship between nationality and professionalism is complicated by the fact that officials, coaches and players strongly propagate the ideals of amateurism within rugby. Whilst all other major rugby playing countries professionalised shortly after 1995, in the rugby clubs of Buenos Aires, amateurism remains a protected principle. For instance, two young players at the C.U.B.A. club recently declined money that they had earned playing for the national team in order to remain members of the club. These two highly ambitious young men, training very hard in the hope of having successful careers, were more interested in remaining in their amateur clubs than accepting money earned at the national level. I am fairly certain that this decision would seem bizarre to most Fijian players. At this stage in my fieldwork, I can offer little more by the way of explanation than to point to a stereotype of Argentine rugby, and two added complications. Firstly, rugby, it is generally said, is not the game of the Argentinean masses, but rather that of an upper middle-class minority.
However, for this minority, it can be a very important game, and the clubs can provide important social networks. There may well be greater payoffs available by staying within the amateur club system than by leaving it. Yet the ideal of amateurism within Argentinean rugby is complicated by the fact that many players in the national squad are based in professional European clubs. What's more, in addition to those overseas-based players still representing Argentina, there are many more who have sought to use their European ancestry to pursue places in national teams there – most notably three of the current Italian squad were born in Argentina, including the captain, Sergio Perisse. Finally, the nature of Argentine rugby is likely to change in the coming years, particularly since a professional rugby team was founded. At this stage, it is unclear exactly what the local constellation of values will become. What is clear is that nationality is a complex question in the professional era and must be understood in its local context. This context is limited by the realities of an uneven professional system, but greater ethnographic insight is needed to understand the full elaboration in any one location.