The Economy of Dreams
In Fiji, the outside world profoundly and directly affects even small i-Taukei (indigenous) villages. As part of our fieldwork on the migration of Fijian rugby players, we visited one such village, which we will call Koromakawa, in the interior of Viti Levu, huddled around an unpaved secondary road. As we arrive, our host Viliame (a pseudonym) leads us to his house and introduces us to his wife, two daughters, studying in Forms 6 and 7, the final years of primary school, and his sister's son who is living with them, who is in Form 6. Conversation immediately turns to the children's hopes for their future. One of the daughters, who is doing well in school, wants to be a doctor, the other a lawyer, and the boy a soldier.
These career paths are at once very remote from the context of the village and very real to the villagers. Doctors and lawyers are a distant presence, professionals located in major urban centres, who might pass through or be called upon on occasion. Soldiering is perhaps the most palpably present career option in the village and in the neighbouring villages. There are former soldiers in the area, including one who is visiting Koromakawa on leave from the British Army, the absent village head-chief who is serving as a UN-peacekeeper in Lebanon, and another man who has returned home to a neighbouring village after completing a peacekeeping tour of duty in the Middle East. Following a long-standing tradition of Indigenous Fijian soldiering in the forces of the (former) British Empire, all have been fighting in wars on the other side of the world, but have landed back in the village under different circumstances. One is a cheerful and respected member of the community, who coaches the rugby team during his visits back home, but has started a married life back in the UK with an East European woman; the second has customary responsibilities associated with his chiefly rank, which in his absence are filled by his younger brother; and, the third man, who most likely suffers from PTSD, is regarded in the wider community as "not a proper man – no one can understand him". Yet, soldiering remains an ambition of many boys, as their imagine their futures both within the village and in a much wider world.
The children's dreams are gendered in a straightforward manner. In villages like Koromakawa, the gendered division of labour and social roles are clear-cut: women prepare food and clean the home, as the men provide root crops, fish and meat, and money. The village has much to offer to its inhabitants: as is the case of many villages in the interior of the country's main island, there are large rivers for fishing, washing and swimming; rich soils which support subsistence production of cassava and leafy vegetables for most, and commercial export of dalo (taro) for some; deeply connected relations of kinship and friendship; and workdays accompanied by long conversations and punctuated by bouts of irreverent joking. Yet, Viliame and his wife were encouraging their children to dream of lives that would take them outside of the village. Careers overseas can provide material resources and a security not available in the village. For boys, soldiering offered financial reward in exchange for service that they imagine to be an integral part of the natural talents of i-Taukei Fijian men, namely toughness, resilience, and respect, modern Christianized incarnations of an imagined and reified history of i-Taukei men as fearsome warriors. Meanwhile, across Fiji, girls have been focussing on education and the professional careers that can offer some of them a path to social mobility. However, despite outperforming boys at school and university, a large proportion of the i-Taukei girls end up becoming housewives, while many of the men remain in the village working in their gardens. Hope intertwines with economic and social imperatives to shape the day-to-day economy of the village.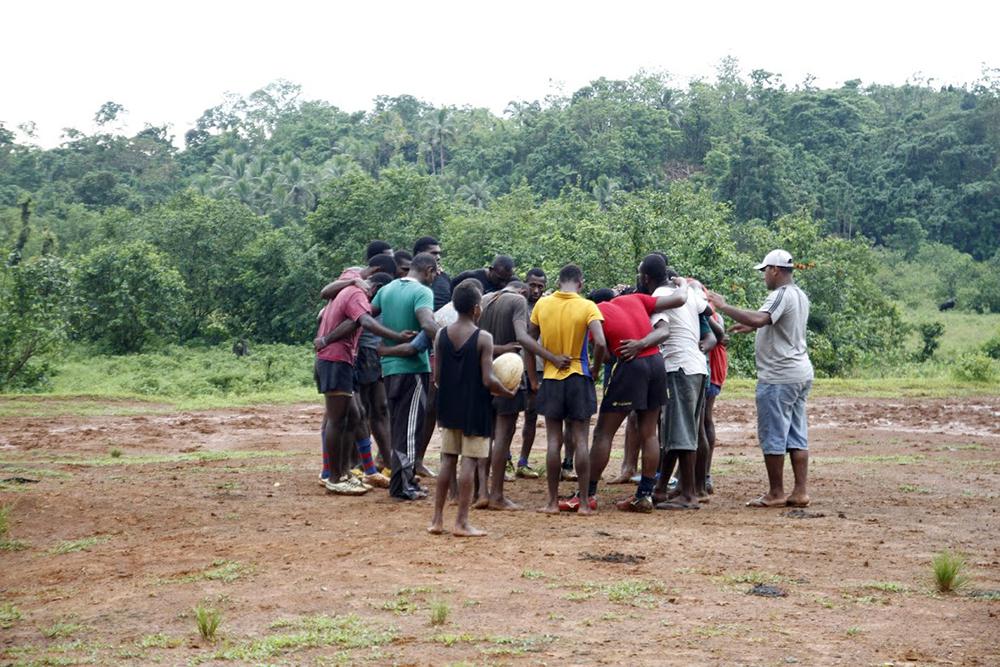 Village boys gather for a pre-training huddle and prayer (February 2016)
In this context, rugby provides what may appear to be an unlikely focus of hope. In the late afternoon on a daily basis, the boys and young men of the village spend several hours training on an uneven patch of grass, red mud, outcrops of rocks cut into the hillside between the main village road and a creek, to which the grazing cows have added their contributions -- the young men joke that players have to keep their eyes to the ground rather than on the ball to avoid being tackled straight into a copious and fresh pile of dung. They enjoy the training, the camaraderie with the friends and relatives they have grown up with and the chance to prove themselves is this most typically masculine and most typically i-Taukei activity.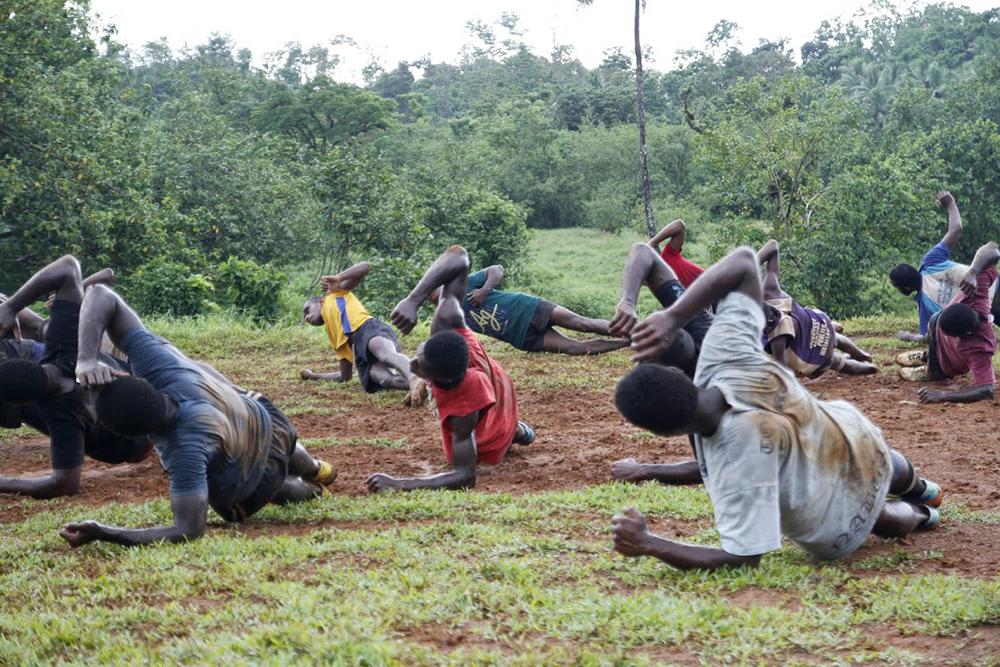 Rugby training on the village rugby ground (February 2016)
But rugby represents considerably more than fun, good company and an opportunity to display their skills for rural Fijian boys and youth. They also eagerly participate in daily rugby training in the hope that the sport will provide them with work that may secure a steady income. The captain, for instance, dropped out of school at 12 because he felt that it was his duty to provide materially for his mother and younger siblings after the death of his father. Now in his twenties, he spends each day labouring to provide food and small amounts of money from the sale of cash crops, all the while maintaining his daily rugby training. In his particular vision of the world, rugby represented a more viable source of hope than education or, for that matter, agriculture -- viable in that it is the typical male activity that can be accommodated alongside his obligations to the community and work life.
While Koromakawa's economy provides for day-to-day necessities, both material and social, as well as for future projects, life in the village is not without a good dose of precarity, as evidenced by children having or choosing to drop out of school to support their families if a parent dies. This precarity is social as well as material, as it is concerned with maintaining the household in an appropriate way through work, rather than relying upon social networks, which can provide food and other necessities to community members in need. Hope is about social and material gains, about creating security and new possibilities for individuals and their families. It must be worked towards, through training, investment or education. In Koromakawa, there is a complex articulation between the village economy, the outside world, ideas about appropriate work, precarity and hope, which is evident in the particular strategies and ambitions of the people there.
Hope and Work
Talking with the young men about rugby, the millennial nature of their dreams clearly emerges -- untold riches that become magically available through unseen mechanisms as a result of doing what they consider, in contrast to working in gardens or selling dalo at the market, "play" (qito). In its most spectacular form, the transformation of play into money comes about when one is noticed playing good rugby by someone with power, recruited and sent to Japan, France or the United Kingdom on a contract with a club. Twenty years ago, France (Varanise) was a distant country that most Fijians had only vaguely heard of; today, the names (if not the location) of French provincial towns with rugby teams have become household names, even in rural Fiji. But besides the rugby career of every boy's dreams, there are other options that most would happily settle for, such as being recruited into Fijian national institutions like the army, the navy, the police force, the fire department, and the department of corrections, all of which are keen to recruit skilled rugby players: these institutions regard rugby playing as a "natural fit" with their heavily gendered primary duties, and the prize money that their rugby teams can potentially win in tournaments is a welcome addition to the coffers of the institution.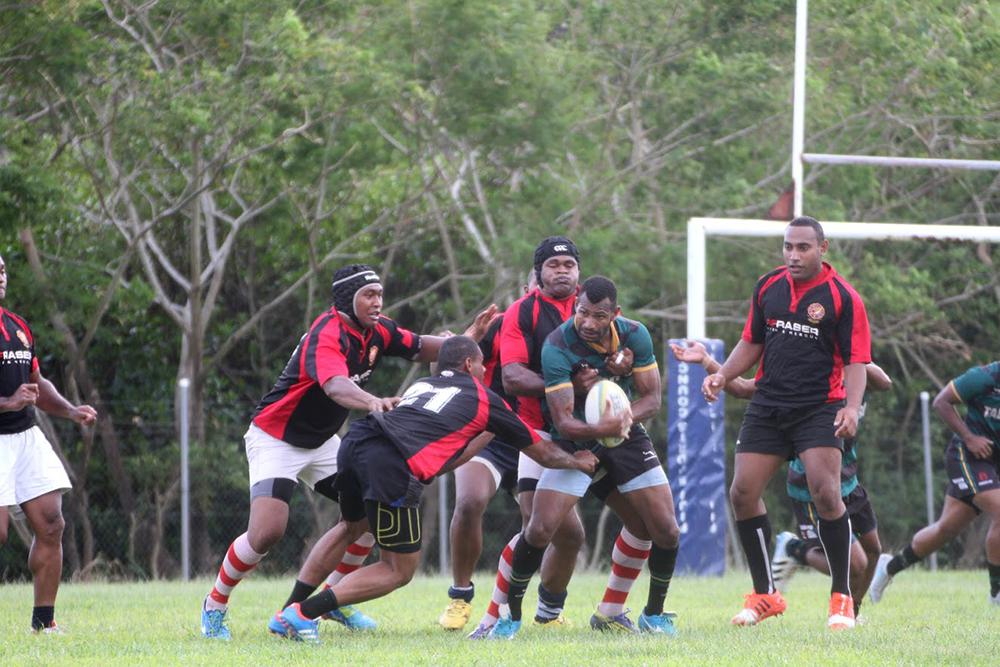 Playing for your job. A player from the Lomaiviti team carries the ball during a preseason match against well-fed members of the Fire Department rugby team (Suva, Fiji, March 2016)
However, the boys of Koromakawa start out with a distinct disadvantage in their quest for employment through rugby. The two hours bus trip from Suva is both a material barrier and a psychological distance, and they speak of being separated from, rather than connected to, the nation's capital – of living in the "jungle" (veikau).They live, train and play at a great distance not only from the professional clubs overseas, but also from the established hubs of Fijian rugby, from which players are routinely contracted to play overseas. The national hub, Suva, and provincial ones like Sigatoka, the capital of Nadroga Province, are centres to which young men go to enrol in rugby academies, to try to prove themselves as players, and to hopefully be noticed by a representative coach. The five or six secondary schools that perform well in the Dean's Trophy, a nationally televised secondary school's competition, provide the other established route to the Fijian national team or to overseas recognition. National team coaches and scouts from overseas will regularly attend both provincial and school games, seeking to identify talented young men.
But the Koromakawa village team does not play in any regular competition, as doing so would involve travel expenses and a time investment well beyond what most village families can afford. Instead, they strategically choose to play in one-off rugby sevens tournaments held in larger and better connected villages in the area, where players still have a chance to be noticed by recruiters. Rugby sevens games last only fourteen minutes and are played seven-a-side. With a little luck, an unheralded team could pull off an upset, perhaps enough to catch the eye of someone on the sideline. The men in charge of the team see this strategy as a "shortcut" to opportunities beyond the village, avoiding the need to travel regularly or move to a city to train and play, but allowing their team the chance to play against some of the better teams in the country. The shortcut is an investment of time, labour and material resources in hope. But it does not always work out as planned: one local tournament that the Koromakawa rugby team hoped to attend, scheduled just before Tropical Cyclone Winston devastated parts of Fiji in February 2016, was cancelled because not enough teams had signed up; we surmised that the F$20 (€8.50) entry fee proved to be out of the reach of most village teams.
The young men of Koromakawa seem to have similar levels of hope and commitment to the dream of playing professional rugby as those of other Fijian villages. However, some other villages have far more resources. Villages near Sigatoka, the capital of Nadroga district nicknamed "Rugby Town", boast long lists of players currently or formerly contracted overseas. These villages benefit from their proximity to the rugby centre, which provides a clear pathway to the upper echelons of the Fijian rugby competitions, and also from regular contact with the tourist resorts that line the coast, known as a Coral Coast. Hotels sponsor local village teams, and the tourists are useful contacts when searching for opportunities in Australian and New Zealand amateur clubs, which Fijians hope will lead to professional contracts. In Koromakawa, the rugby dream persisted despite its distance.
The Awkward Conversation with the Outside
There is one person in the vicinity of Koromakawa village who serves equivocally as either role model or model of failure, or perhaps something in between. Living in the next village along the road is former rugby international Jone Bola (a pseudonym). Bola's life is a story of both success and failure. Picked from the village by Fiji's national team and then recruited on a three-year contract by a major team in the United Kingdom, where he promised to be the next mega-star of the sport, Bola saw his employment terminated after only one year, ostensibly for reasons of "poor communication" (he indeed speaks very little other than Fijian). Out of respect for him, there is little overt discussion about why he returned to the village so early in life, although speculations of course are furtively exchanged. He speaks about the loneliness that both he and his wife had felt during the long UK winters, isolated from other Fijians, let alone their own small community. These problems are not easily recognised by the young men who dream of emulating or bettering his success. What is considerable more visible to fellow villagers is the ephemerality of money earned overseas: besides a new house bordering the dirt road, with a shiny kid's mountain bike visible on the veranda, Bola has little that others do not have. Whatever he was able to save from his income, which must have been substantial during his brief period as a potential star, has now run out.
Our visit to Koromakawa provided an opportunity for a very unusual form of contact between the village and the outside. The potential awkwardness of this encounter was most evident when the rugby team gathered after dinner for a yaqona (kava) drinking session at which we were to make a presentation of a rugby ball that we had bought for the team. Tia (a pseudonym) purposefully structured the evening in a way that would prove to be discomforting for the young men. We sat in the style of a relatively formal yaqona session, with the players sitting cross-legged on mats all facing the "top" of the room, where the higher ranking people (in this case the coaches and managers) and guests (in this case us) were seated. Following protocol, we were given the first bowls of each round of yaqona served. However, Tia compelled the young men to tell us about themselves in front of the group, breaking the normal protocols of communication which require the younger and less senior members of the group to quietly listen to the most senior men, or carry on whispered conversations with those next to them. Their awkwardness was increased by their nervousness when speaking English, which they are not accustomed to use outside of school. In fact they are very accustomed to spending most of their time with a very closely-knit group of agemates. These groups have become closed social structures, within which all social interaction, daily activities and jokes take place. Almost every response is met by laughter from the group, and the young men's reluctance to speak increased as the evening went on.
Adding to their reluctance was the social awkwardness of speaking of and imagining themselves as individuals partially separated from the collective. Tia was trying to encourage these individualistic dreams, the boys nervously accepted them. Tia was very comfortable with the conversations with us, as he has experience overseas, and had already established a joking relationship with us. He saw the inability of the boys to speak to those outside of the very narrow world as a major impediment to the fulfilment of their aspirations, and also one of the few things they could work on and control. The only boy who was confident with this speaking style was studying at teachers' college, where he is most likely exposed to a habitus which encourages individual speech acts and behaviour. Our presence exacerbated the shyness as we represented deep ambiguity in the boys' minds as to exactly who we were and what we were doing there. Before our arrival, we had already been sounded out for possible connections with rugby clubs -- surely, if we were doing this research, we would be able to assist some players to find overseas professional contracts.
Images of success in the larger world hover in the imaginations of the current generation. The relationship between the young men, their futures and the new position in a bigger world that their imagined futures would require is fraught with ambiguity. Those from the village who have successfully had contact with the outside are somewhat marked as different. Tia is in many ways an outsider, comfortable expressing his strong opinions because his life now lies outside the village; Viliame is teased for the wealth that his Chinese business connections have brought him; and Jone is seen as someone who preferred the village life, and returned to it with wealth, albeit short-lived. Accomplishing their dreams would also isolate the boys from the village systems within which they are so comfortable -- in ways that Jone found impossible, and that Tia is constantly encouraging and facilitating, for example by inviting unusual foreigners to the village.